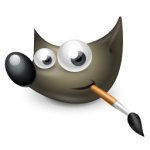 GIMP (GNU Image Manipulation Program) is a free and open-source raster graphics editor used for image retouching and editing, free-form drawing, converting between different image formats, and more specialized tasks.

GIMP is released under GPLv3+ licenses and is available for Linux, macOS, and Microsoft Windows.
Source: Wikipedia.
We can follow these steps to create borders in GIMP
Open GIMP
Press the Ctrl N to create a new image
Select the 640×480 template or whatever you want
Press the R key to activate the rectangle selection tool or E to activate the elliptical selection tool
Select a region within the image
Right click -> Select -> Border and specify the width of the border
Press Ctrl , to color the border with the foreground color or Ctrl . to color the border with the background color
Press Ctrl Shit A to turn off the selection.
Video about how to create border in GIMP